Say Hello to Lydia!
Blog Entry - December 02, 2019
Hi, I'm Lydia! I'm the new chatbot on the Ansay & Associates page. Yes, that's right, I live right here on www.ansay.com  You might already have some questions. Well, let me answer them. I'm specially designed to streamline the process of helping you find exactly what you need.
Looking for an internship or career opportunity? Let me know. How about securing the best personal insurance? Yep, that too! Or are you a business owner, looking for the right coverage for your employees? Yep, you guessed it. I can direct you to the right place.
Plus, if you'd like to chat with an expert Ansay & Associates advisor, you can leave your name and number with me and I'll be sure to pass it along. No matter what you need, you'll receive a lightning-quick response that cuts down on your navigation time.
I encourage you to take a look around. And if you have any questions, you know where to find me.  
Chat soon,
Lydia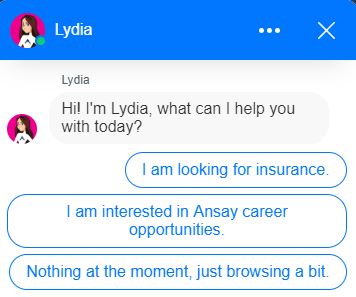 Almost there! 
We need a little more information from you. Once this form is submitted you will be able to utilize the resource requested. 
By requesting this resource, you are agreeing to receive email communications from Ansay. You can unsubscribe at anytime via your preference center. 
Not allowed
You are attempting to download a resource that isn't available to you.